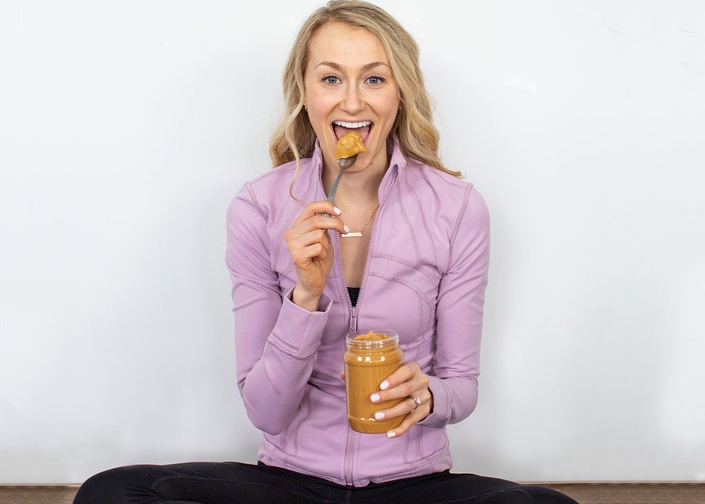 No Food Rules In 30 Days
Eat what you want, when you want without anxiety, guilt or stress!
Have any of these ever crossed your mind:
'
I wish I could eat whatever I wanted.
There is no way I'll ever be happy with my body.

How come she can eat that without feeling stressed and guilty?!
If I were to eat a piece of cake I'd want the ENTIRE cake!
I always have to workout to "burn off" any unhealthy food I eat.
Eating healthy during the week is easy, but I binge on the weekend.
Food is constantly on my mind and it is EXHAUSTING!
I just don't have the willpower to be healthy.
There is only a small list of foods I feel comfortable eating that don't stress me out.
I want to stop thinking about food so that I can concentrate on LIVING life!
The truth? These are all total LIES. And you can stop allowing them to control your life.
How do I know this? Because I've BEEN THERE, girlfriend! I've told myself each and every one of those lies for 6 years. And I wasted SO much time not living life by doing that.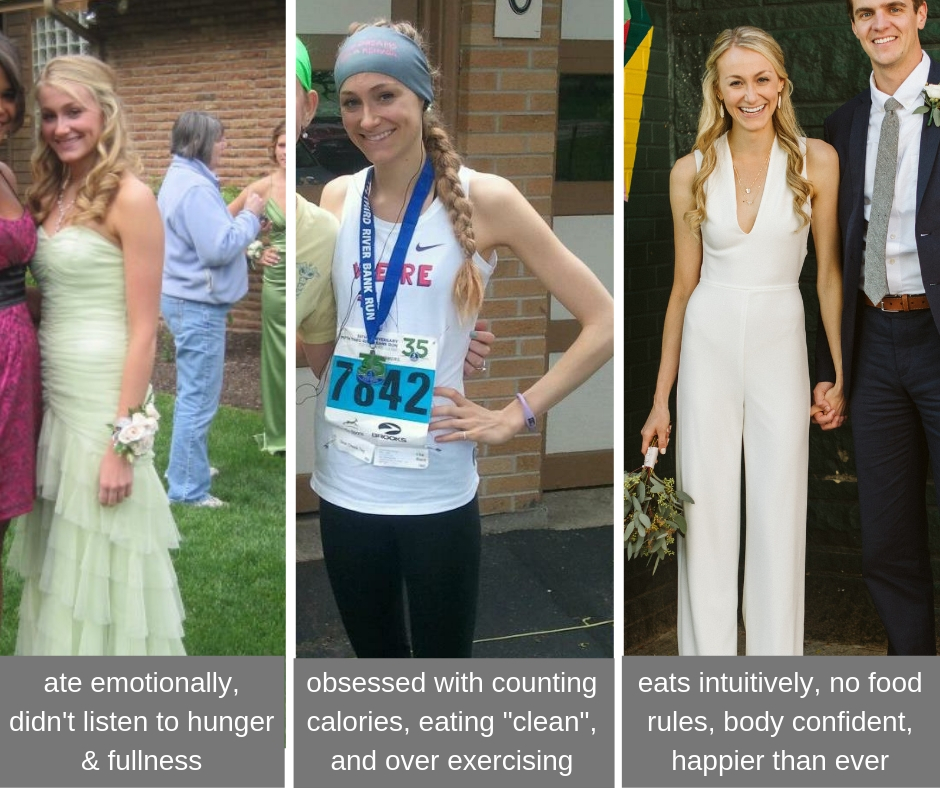 Imagine: 30 days from now you could be living a life where you eat the foods you want, when you want, with zero fear, guilty or anxiety. Where you're not constantly thinking about food or your body and are able to live life on YOUR terms. You're able to stand in from of the mirror and feel CONFIDENT!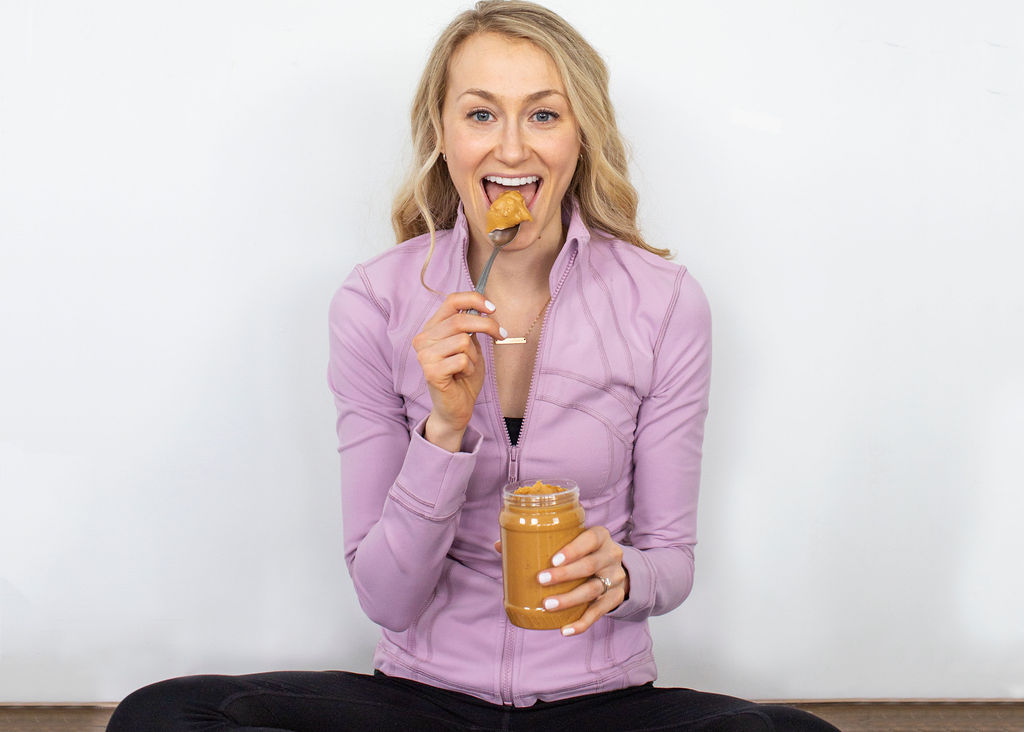 Does ditching food rules feel empowering AF?!
It CAN happen.
How?
The No Food Rules in 30 Days E-Course!
Learn how to eat the foods that you want, when you want, without guilt stress or anxiety!
Here's what the course covers:
Lesson 1: Regaining Trust With Your Body
Lesson 2: Understanding Hunger & Fullness
Lesson 3: Overcoming Emotional Eating
Lesson 4: Learning To Love Your Body
Lesson 5: Simple Nutrition

Course Curriculum
Start Here!
Available in days
days after you enroll
Lesson 1: Regaining The Trust With Your Body
Available in days
days after you enroll
Lesson 2: Understanding Hunger And Fullness
Available in days
days after you enroll
PLUS you have access as long as this course is available including ANY updates that are made!
This 30 day program is designed to give you a complete road map to finding TRUE FOOD FREEDOM! I'll show you how to eat any food you want, feel zero guilt around eating, and never fear binge eating again. PLUS you'll learn to actually LOVE your body and care for it in a way that makes you FEEL AMAZING!
Ultimately, you'll be able to ENJOY LIFE again and starting living on your terms- food rule free!!!
Envision what your ideal life would look like, how you WANT to be able to eat. Now, think of this course as your personal guide to making that a reality.
In just a few hours you'll learn all of the knowledge and step-by-step actions that took me 6 years to uncover in order to allow me to ENJOY EATING AGAIN!
THIS CAN BE YOU: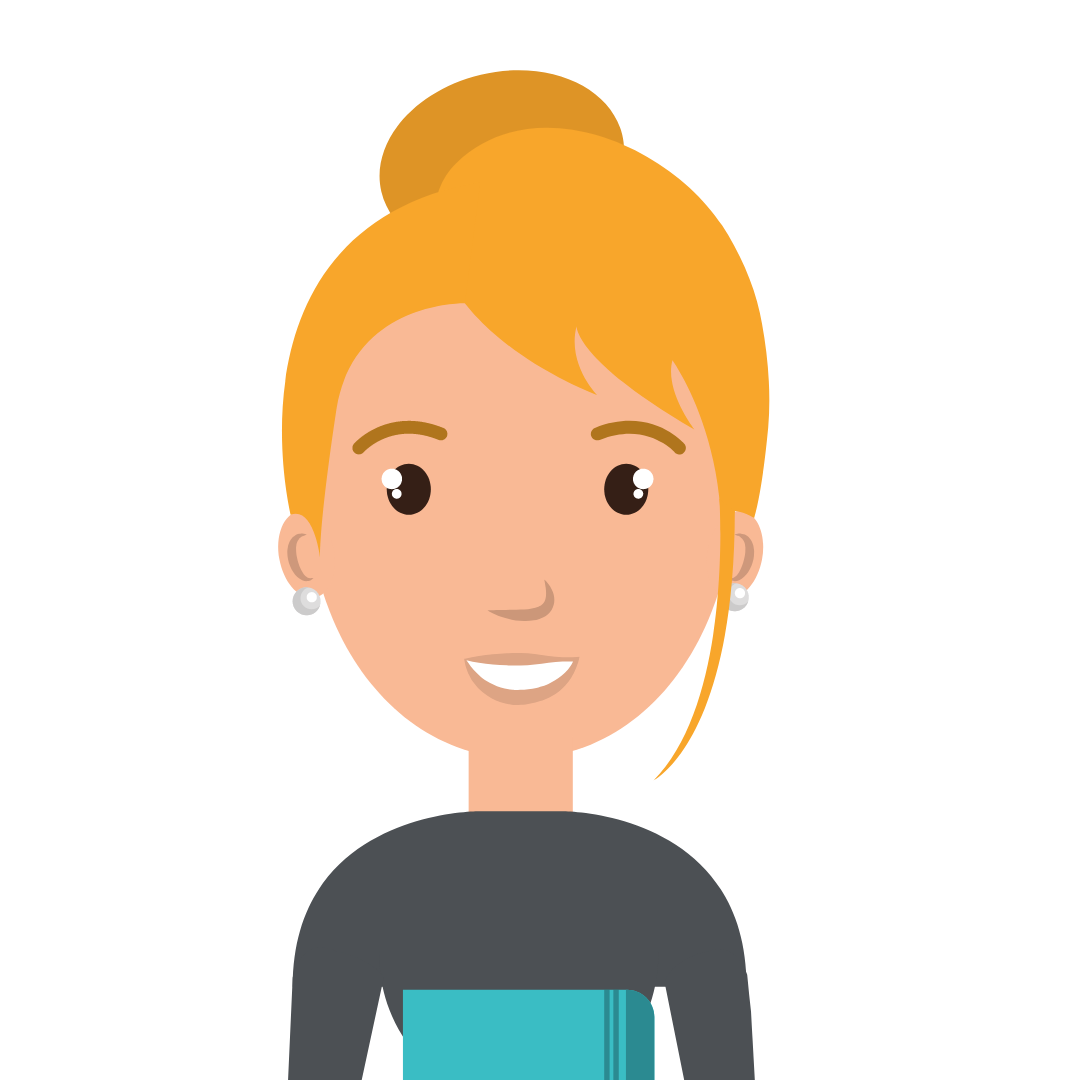 By working with Colleen, I've drastically improved my relationship with food, exercise, and my body. I ditched the food rules, and can now eat whatever, whenever, and wherever I want!
- Food Rule Breaker Graduate of May 2019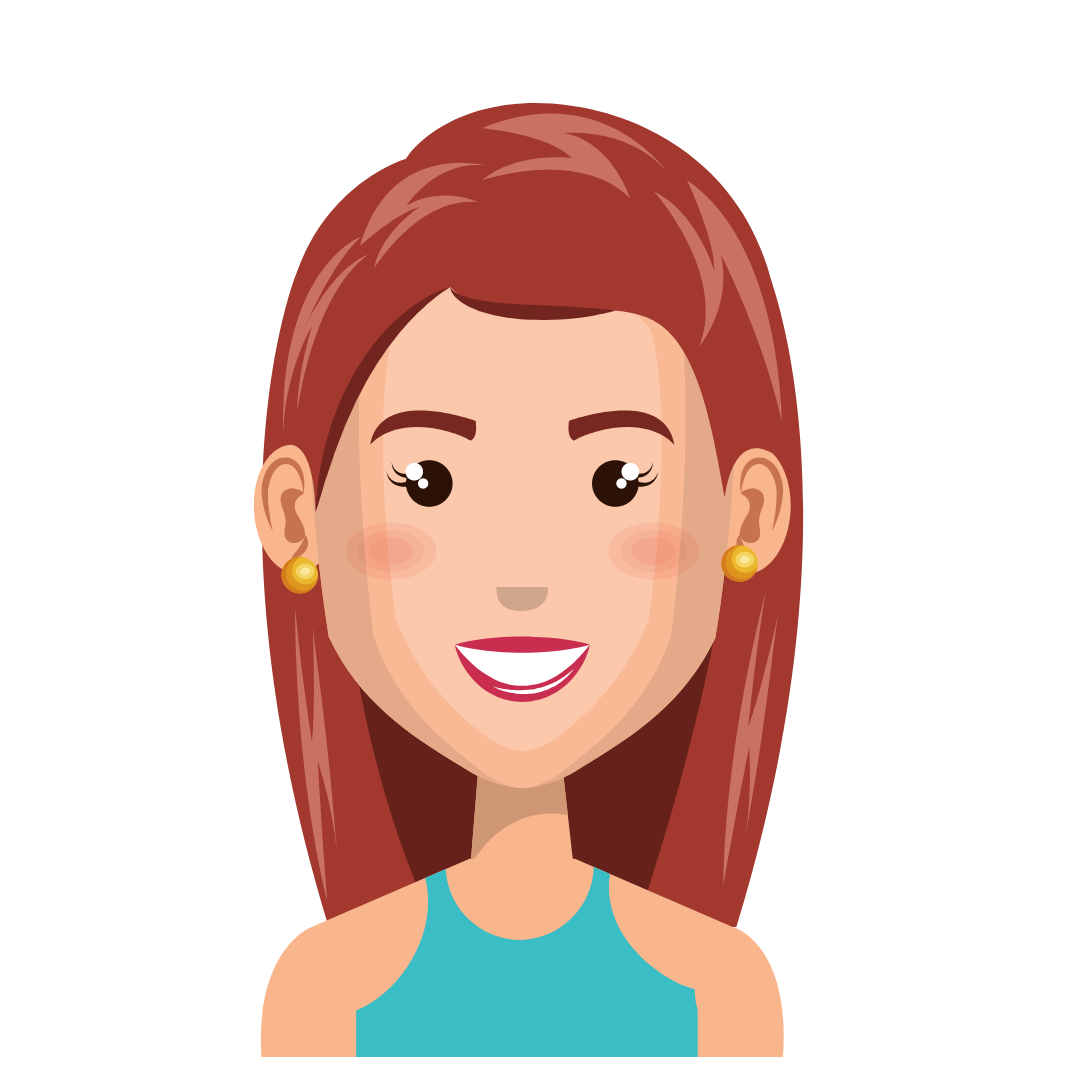 My life has been changed completely. I don't look at food with fear any longer. I look at food as an opportunity to gain more confidence in myself and my body. I've learned how to eat again! I never been thought I would be able to trust my body again.
-Food Rule Breaker Graduate of May 2019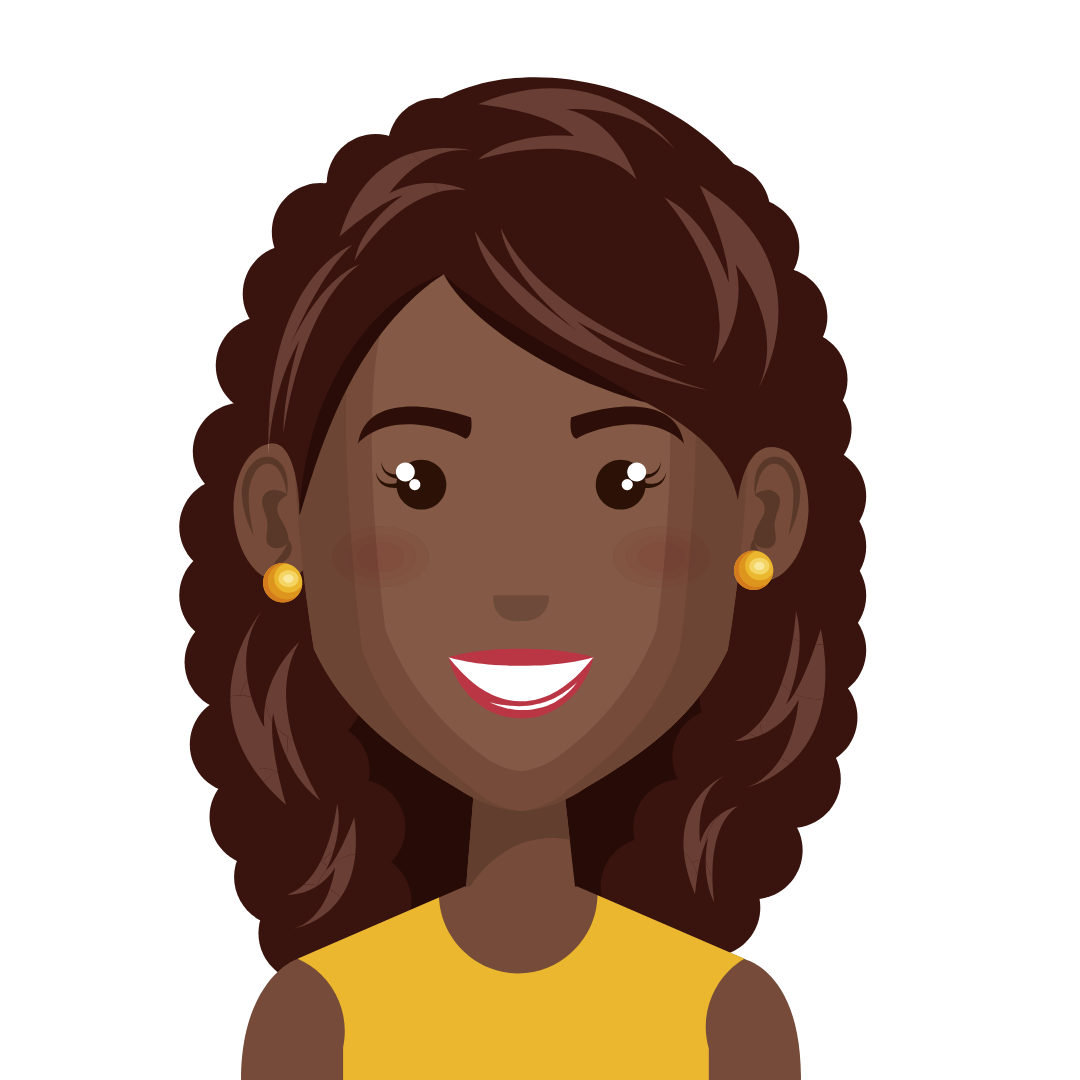 Working with Colleen has been the most positive thing I have done for myself and my body in a very very long time. I think the long term effects are going to be tremendous and I will always be thankful for my time working with Colleen.
- Food Rule Breaker Graduate of January 2019

How FABULOUS would that be?!
This course is closed for enrollment.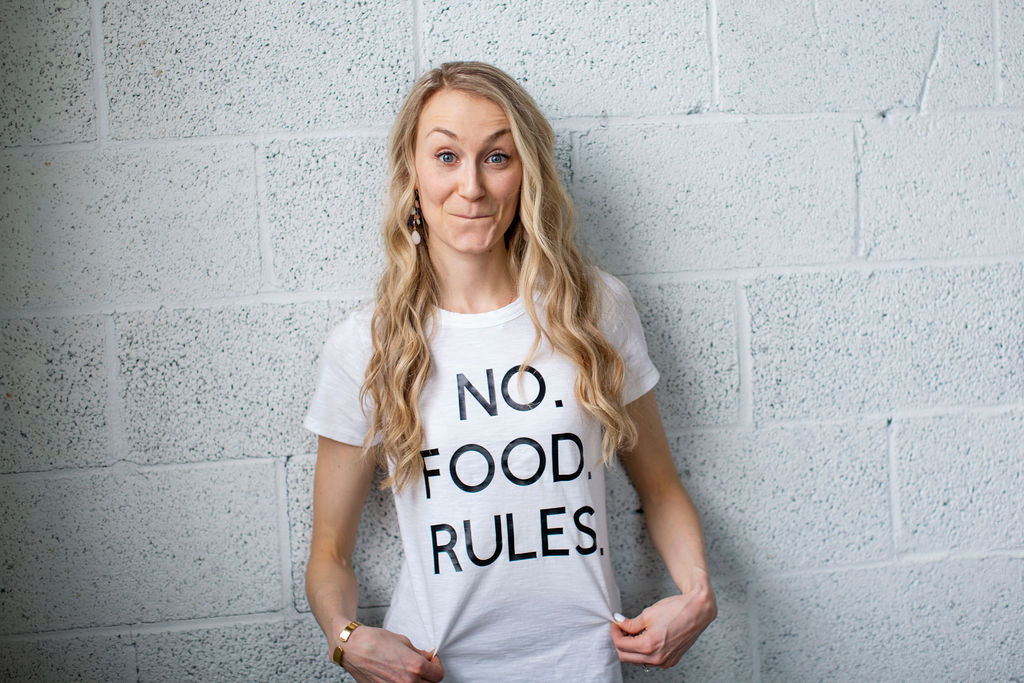 Who is this course for?
This course is for anyone who wants to eat any and all foods that they want, when they want, without guilt stress or anxiety!
This course if for anyone looking to feel GOOD about their eating habits and for those who want to learn how to LOVE and RESPECT their body.
Whether you are looking to stop restrictive eating or stop over eating this course is for YOU!
---
Who is this course NOT for?

This course is not for those who need medical attention or inpatient treatment for an eating disorder.
This course is not for those who are looking to lose weight or searching for a quick fix like keto, paleo, etc.
This course is not for those who are not willing to reflect on eating a cupcake and make their life more enjoyable.
This course is not for those who are unwilling to eat a donut and feel fab AF!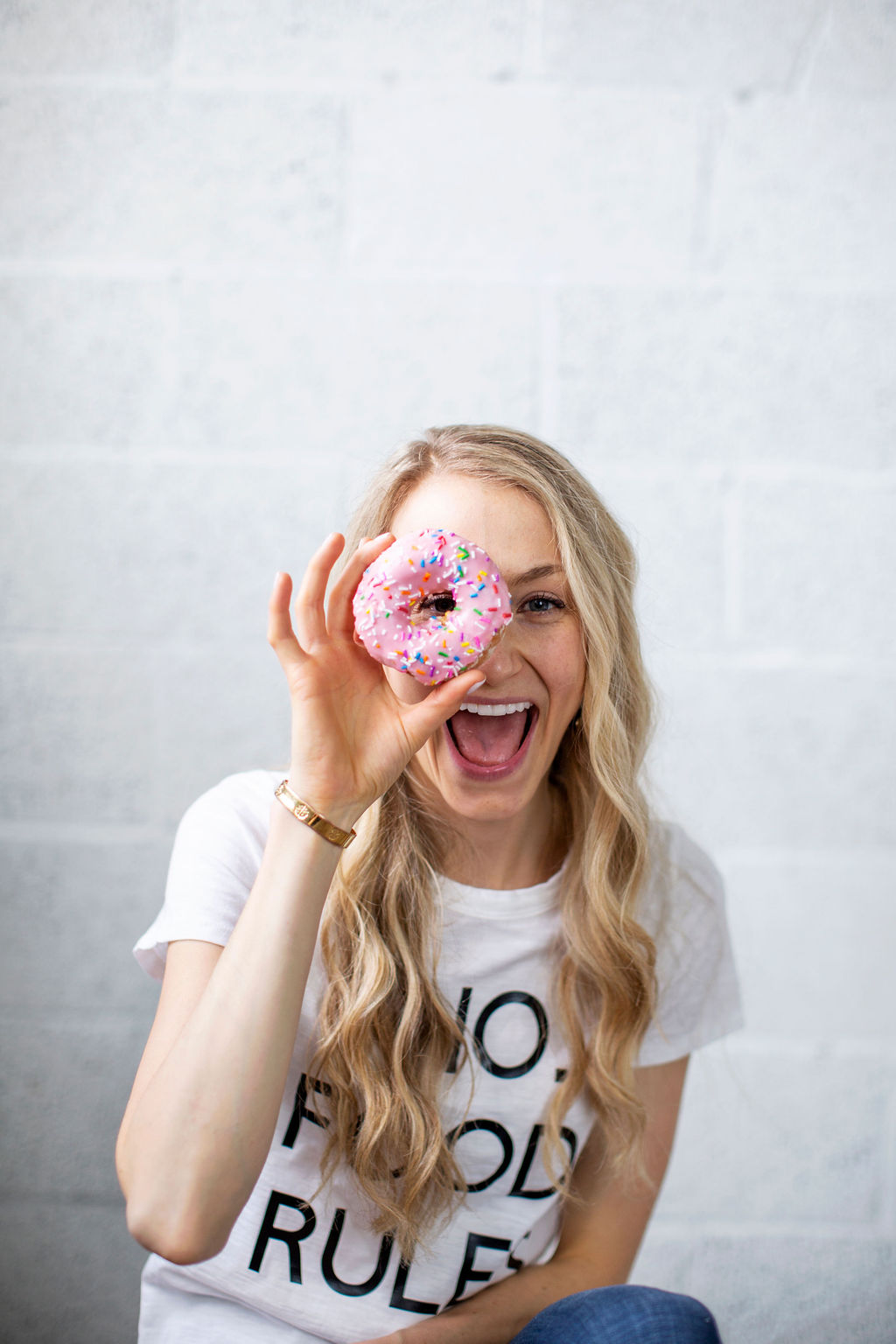 30 Day Money Back Guarantee
I give you a full 30 days to implement everything I teach you in this course. If you take action and apply everything and don't notice a difference in your relationship with food I 100% want to give you your money back! You will only be eligible for this refund if you complete all journal exercises within the 30 days, keep them on your computer, and can provide them in one email.
I firmly believe that you CAN live a No Food Rules lifestyle - but only YOU can put in the effort to make that happen!
Frequently Asked Questions
Is this course geared towards restricting food or over eating?
Both! This course helps to overcome restrictive food rules as well as helping to overcome over eating/binge eating. The two are actually connected in the restrict-binge cycle!
When does the course start and how long do I have to finish it?
The course starts whenever YOU decide to purchase it and begin! You have access to this course for as long as it exists. I recommend diving into the materials in the first 30 days after purchase, however you can totally work at your own pace!
What if I am unhappy with the course?
I would never want you to be unhappy! I have a 30 day return policy, BUT, it does have it's restrictions. In order to receive a refund, you must complete the work, show proof that you've completed all exercises, and that it did not prove useful. The reason is this: no one else can be held accountable if you aren't willing to put forth the effort. If you do the work, you will see results!
This course would be a big investment for me–is it worth the price?
I've spent 6 years of my life and THOUSANDS of dollars trying to improve my relationship with food and find food freedom. Throughout these 6 years, and combined with my Registered Dietitian background, I've learned what works and what doesn't. This course will help you achieve food freedom faster and for a fraction of the cost.
Have a questions that isn't listed here?
Where can I communicate with you when I have questions throughout the course?
Inside the course there is an exclusive forum for the Food Rule Breaker tribe where you can ask questions, share ideas, and get support! I'll be in there for one hour on a monthly basis myself!
Okay, this all sounds great, right? But who the HECK is this Colleen person? Well, let me introduce myself!
Your Instructor
Hi! I'm so excited you're here. I struggled in my relationship with food for 6 years. I counted calories, counted macros, obsessed over when and what my next meal/snack would be, binge ate, heavily restricted foods I saw as "bad", over exercised and HATED my body! It took me 6 years to improve this relationship but I did it! Today, I eat the foods that I want, when I want, without guilt stress or anxiety. I am living life on MY terms, not my food rules, and it's fabulous!
I'm taking my 6 years of trial and error and boiling it down to WHAT WORKS. I don't want you to have to waste 6 years of your life like I did. I want you to start living the No Food Rules lifestyle faster! How does in 30 days sound? Good, great!
I've been featured by Shape Magazine and PopSugar Fitness for the work I do to help motivate women to find this freedom that I've found. And? I can't wait to share that with YOU, too! Let's do it. Let's get you on your way to living a No Food Rules lifestyle too!!
So... What now?
Choice #1
You can keep on living your life full of food rules, restrictions and binge eating where you never really experience all of the joy that life has to offer.
or....
Choice #2
You could START LIVING your dream life! You can eat that foods that you want, when you want, without guilt, stress or anxiety all while loving your body!
This course is closed for enrollment.